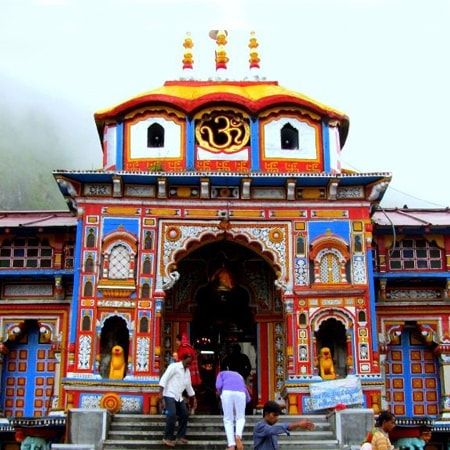 Badrinath temple, sometimes called Badrinarayan temple, is situated along the Alaknanda river, in the hill town of Badrinath in Uttarakhand state in India. It is widely considered to be one of the holiest Hindu temples, and is dedicated to god Vishnu. The temple and town are one of the four Char Dham and Chota Char Dham pilgrimage sites. It is also one of the 108 Divya Desams, holy shrines for Vaishnavites. The temple is open only six months every year (between the end of April and the beginning of November), due to extreme weather conditions in the Himalayan region.

Several murtis are worshipped in the temple. The most important is a one meter tall statue of Vishnu as Lord Badrinarayan, made of black Saligram stone. The statue is considered by many Hindus to be one of eight swayam vyakta keshtras, or self-manifested statues of Vishnu. The murti depicts Vishnu sitting in meditative posture, rather than His far more typical reclining pose.

The temple is approximately 50 ft (15 metres) tall with a small cupola on top, covered with a gold gilt roof. The facade is built of stone, with arched windows. A broad stairway leads up to a tall arched gateway, which is the main entrance. The architecture resembles a Buddhist vihara (temple), with the brightly painted facade also more typical of Buddhism temples. Just inside is the mandapa, a large pillared hall that leads to the garbha grha, or main shrine area. The walls and pillars of the mandapa are covered with intricate carvings. Badrinath Temple at MorningThe main shrine area houses the black stone image of Lord Badrinarayan, sitting under a gold canopy, under a Badri Tree. There are fifteen more murtis around the temple that are also worshipped. These include murtis of Nara & Narayana, Narasimha (the fourth incarnation of Vishnu), Lakshmi, Narada, Ganesha, Uddhava, Kubera, Garuda (the vehicle of Lord Narayan), and Navadurga. Hard sugar candy, Tulsi, and dry fruits are the typical prasad offered at Badrinath temple. The Tapt Kund hot sulphur springs just below the temple are considered to be medicinal—many pilgrims consider it a requirement to bathe in the springs before visiting the temple.